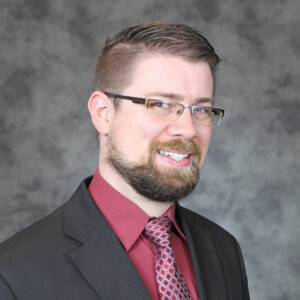 Eric Anderson began serving as lay pastor of the Wautoma Seventh-day Adventist Church Company in 2019. He was instrumental in initiating the Wautoma church plant which began in April of 2016, and has served as their head elder since that time. "I was raised in an Adventist home," says Eric. "There's never been a time when I left the Seventh-day Adventist Church, but I have had my ups and downs with worldly things at times. Still, the Lord just keeps pulling me in a little closer and I keep growing a little stronger as time goes by."
Eric has an Associate Degree in Computer Support he earned from Fox Valley Technical College. About the time he graduated, he married his wife, Carrie, and they decided they wanted to live more rural than the computer jobs would take him. So for many years Eric has worked at Pick 'N Save, and is now Assistant Manager for the produce department. He, his wife Carrie, and their two young children, William and Ember, live in a 150 year old homestead house his family has owned ever since the family came here from Norway.
Spending time with family is top priority for Eric. He and Carrie enjoy taking the children to the park, camping, and absolutely love going to camp meeting each summer. When alone, Eric enjoys reading and doing some writing.