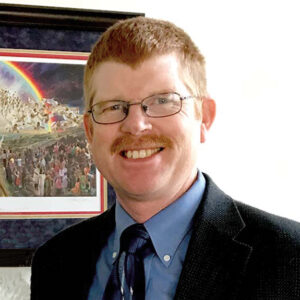 Jeff Veldman began serving as Lay Pastor for the Oxford Seventh-day Adventist Church in 2019 after graduating from the Wisconsin Conference Lay Pastor Training Program. He then began working on a degree in Associate Bible Instruction from Hartland College. One thing Jeff says he has learned through the years is, "If the Lord opens the doors, who am I to shut the doors?"
Born and raised in Appleton, Wisconsin, Jeff graduated from Wisconsin Academy in 1987, moved to Oxford, and has been a member of the Oxford church ever since. "My great, great grandmother was a founding member of the Oxford church, joining in the late 1800's," said Jeff.  "Because of that stand she took so many years ago I am very fortunate to have been born into the Seventh-day Adventist faith. But just because you are born into the faith does not mean that you appreciate it. Like so many of our young people I wandered away from the Lord for a decade or more. I felt something was missing in my life and realized I needed Jesus in my heart as my personal Saviour. I was re-baptized in 1999 and fully committed my life to Him. I want to tell all the parents and grandparents out there to never give up, and never stop praying for your children and grandchildren. I had a family that was praying for me and a mother that would not let me go."Jeff says that he started working with the PA system at church then became a deacon, next and elder, and currently serves as the head elder as well as a Lay Pastor. He enjoys studying and preaching and likes to preach about God's love and about revival, reformation and witnessing.
Jeff currently works for Integrity Feeds in Endeavor, WI, driving delivery truck to farms and feed mills. Prior to working at Integrity Feeds, he worked as a dairy herdsman for thirty years. He is married to Carrie, an RN and Massage Therapist who enjoys singing in the churches where Jeff preaches. In his free time, Jeff enjoys woodworking, Bible study, and outdoor activities such as hiking, camping, and kayaking. He also likes visiting National Parks, and has traveled in 48 states, the Bahamas, and Canada.